Connect @ CWIEME hosting thousands of double opt-in onsite meetings, 40+ speakers across Central and E-mobility stages, and visitors from all corners of the globe.
London, UK, June 13, 2023 – CWIEME Berlin, part of the global CWIEME events, the world's largest event series dedicated to coil winding, transformers, electric motors, generators and e-mobility, just closed the doors on a phenomenal CWIEME Berlin 2023.
The global electrical engineering industry met again in Berlin, 23-25 May, where thousands of visitors were welcomed from all corners of the globe through the doors of the Messe Berlin. Record-breaking visitor numbers were celebrated, with a footfall increase of +39% compared with 2022, resulting in a visitor attendance of over 8,100+.
The event also welcomed more unique visitor attendees compared with 2022 by +24%.
Connect @ CWIEME driving business
The Connect @ CWIEME meetings programme, available for the first time in this form at this year's CWIEME Berlin, proved to be a great success, boosting business and helping visitors to experience CWIEME Berlin in the most efficient way. In total, the Connect programme hosted more than 3,100 targeted meetings, delighting participating visitors and exhibitors alike.
"This year's CWIEME Berlin was exceptional! We had a great and busy show in 2022, but 2023 passed all my expectations by far! Completely full days of truly value-added meetings at our booth and at Connect@CWIEME. The presentations at Central Stage were valuable and always full of attendants. Last day including students was also great. The energy at the show was fantastic, we are happy to keep coming back!"
Javiera F. McGuiggan, Assistant Vice President. Global Business Leader Cargill BioIndustrial- Power Systems
After successfully launching Connect @ CWIEME and building on this year's exceptionally good experience, we are thrilled to announce its return even bigger and better for 2024. By maximizing the return on time and financial investment, Connect @ CWIEME guarantees an exceptional experience for everyone involved.
Full auditorium on Central and E-mobility stage
The conference agenda, with inspiring keynotes and insightful presentations from industry leaders, attracted many visitors to both the Central Stage and the E-mobility Stage. Providing the latest technical developments and trends from senior industry thought-leaders and keynote speakers, the CWIEME Stages delivered a programme of highly curated sessions. The presentations were tailored for engineers, academics, senior management and industry professionals from the coil winding, transformer, electric motor, and generator industries. With a mix of strategic and technical talks, the sessions and panels covered the biggest topics across the industry right now such as sustainability, mobility transition, and other prevailing industry trends. With more than 40 high level presentations and panel discussions all sessions were very well attended across the 3 days.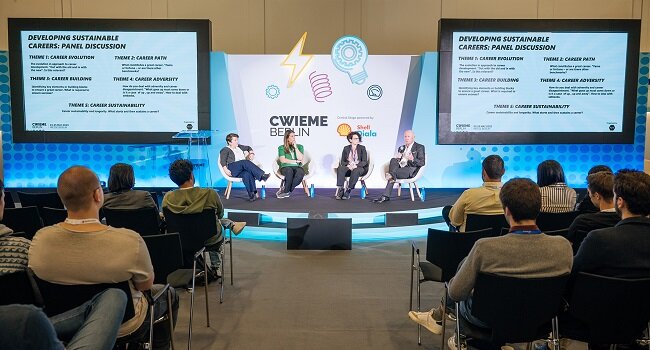 Education Day
In addition to other new trade show elements, the CWIEME Education Programme was launched for the first time. The Education Programme gave interested students an opportunity to experience the event, connect with professionals onsite and learn about industry trends and innovations. This year the Education Day had three university partners: TU Berlin, Berliner Hochschule für Technik, and Berner Fachhochschule. In total more than 80 students from 32 different Universities registered for the event.
Save the date for 2024
CWIEME Berlin remains the leading international event for the entire coil winding, electric motor, transformer, generator and e-mobility supply chain. With the launch of Connect @ CWIEME at CWIEME Berlin 2023, we are connecting the industry via high-value double-opt in onsite meetings. Connect @ CWIEME returns in 2024, bigger and better!
Please also visit the CWIEME Berlin 2023 highlights page showing some of the onsite impressions as well as a small event gallery.
The next CWIEME Berlin will take place from May 14 – 16, 2024. For more information please visit: https://berlin.cwiemeevents.com/register-your-interest